Home | Artist/Designer Profile | Whitewoven Textile Collection |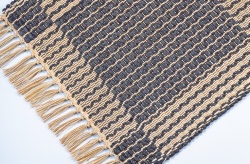 About Our Rugs
My favorite and most successful rug designs are represented in this collection. Each design has been carefully developed to exhibit the beauty of a handwoven rug, coupled with the durability of a fully functional accessory or centerpiece. Each rug is offered in custom coloring to suit the client. . .and each rug is produced by hand on hand-looms at our own studio. All of the rugs are suitable for wall hangings and may be ordered as such. All of them may be either focal points of a room, or beautiful accessories.
Whitewoven has produced custom handwoven rugs for over 15 years. Our repertoire of rug styles and designs currently numbers over one hundred, and we are designing new rugs every season. We work with a variety of fabrics and yarns, in a variety of fiber content combinations.
While we have discontinued stocking printed fabrics for rug production, we maintain dependable supplier contacts, and know where we can purchase the best materials to produce the best rug. We are happy to work with fabrics provided by the customer, and happy to assist the customer with purchasing suitable fabric if needed. We always recommend that our customers consult with our designer, Sheree Sorrells, before making a major purchase of fabric for rug production.
Remember that a high quality fabric produces a high quality fabric rug. We recommend the use of good quality, soil resistant, and well designed fabrics. This will add to the life of the rug.
Some samples are shown as woven with printed fabrics. Sometimes the exact fabric may not be available for reproduction, but we have not found this to be a problem. Most all color combinations can be found in other suitable fabrics. And it has become more economical to shop for a fabric at the time of production, rather than to maintain an extensive line of fabric selections.
Occasionally, we use textile industry by-products in the designs of our rugs. These styles are usually located in our "Country House" line, and may have color limitations. These materials are always new and unsoiled, and are usually produced as a waste product of another textile industry product. These rugs offer excellent service and great value.
Hand-dyeing is a unique feature of some of our rugs. The Chameleon style series are as often featured as works of art as they are rugs. Additional explanation of our hand-dyeing procedure is available upon request. Exact COLOR-MATCHING whether in fabric or yarns is not guaranteed, but we'll always get your approval if there is a question.
Professional cleaning is recommended for all our rugs. A good oriental rug cleaner in your area will most likely clean an handmade rug with care. We don't recommend machine washing for a handmade rug unless the rug is small (3' x 5' or smaller) and thin (no more than 1/4" thick). This will loosen the structure and shorten the life of a heavy, tightly woven rug. Not to mention shortening the life of your washer!
A rug may be spot cleaned with gentle, low-sudsing cleanser and a sponge; using a blotting action, minimal water, and then elevated to dry. The old-timers recommend laying your rug onto a newly fallen snow (a particularly cold and dry one,) turning it over, and then sweeping the snow and the dirt off the rug. Repeating with the steps with other side, and then placing the rug to dry in an out-of-traffic area. They swear it works for cleaning AND reconditioning.
Rugs from all over the world vary in SIZING. Ours to do. So if you need an exact finished size in length or width, request ABSOLUTE SIZING - before your rug is woven. Otherwise sizes may vary as much as 5% in either direction.
There is a surcharge for Absolute Sizing. Please refer to our price list.
What's in a name? Our Style names are a way of grouping our rugs.
COUNTRY HOUSE: Rugs made in pattern weaves with high texture, or from industrial by-products.
CHAMELEON: Hand-dyed rugs in cottons or wool having the unique characteristic of changing color before your eyes.
ORCHARD HOUSE: Pattern weave rugs in various materials, having block or stripe motifs.
HEARTHSIDE: Our new line of wool rug styles in pattern weaves.
Prints and colors, colors and prints
Fabric rugs look great woven from printed fabrics. It's one of our favorite ways to work in color. But stocking printed fabrics has become cost prohibitive for the handweaver.
In order to give our customers more and better choices in fabrics, our studio does not stock print fabrics, but if it is a print you want, we can find it. We have always been able to make a suitable and comparable substitution. You'll always get a change to approve our choice before production, of course.
No self-respecting rugweaver will start a commission before the sample has your approval.
We won't either. After selecting the rug structure and colors most appealing a suitable for your project, let us complete the decision making process by weaving a sample for you.
Each sample is $125.00, and 97% of the time one sample is enough to get it right.
Once the sample is approved, your sample fee is applied to the total cost of the project. And even better, YOU KEEP THE SAMPLE. They work great for table centerpieces to compliment your new rug.
Sample production carries priority in the studio, and we can usually get them to you in 3-4 weeks.